On the 1st of July , I landed in Geneva for my two-week Chamonix trip. I started by going down to Les Contamines-Montjoie for my first acclimatization trip up to Aiguille de la Berangere, at 3425m altitude. From the Concrits Hut at 2580 meters, I begin climbing at around 4 o'clock in the morning, and just before sunrise I climb over the airy but easy climb of the top crux and reach the summit together with two guided groups.
The top of Aiguille de la Berangere
After that, I spent a few days around Chamonix, including a day of trail running and solo climbing around La Mer de glace and a day at Aiguille du Midi to end my acclimatization period. At 3842 meters altitude, the air begins to feel considerably thinner than at ground level. The breathing gets heavier, and when I try to run up the stairs the air runs out when I reach the top of them.
The next day I start moving towards Bellevue to take the mountain train to Nid d'Aigle and the Goûter route up to Mont Blanc. After about 700 meters of ascent, you reach the Tete-rousse glacier, which I pass to spend the night in the Tete-rousse hut at 3167 meters altitude. There I have dinner with four Britons who, with the help of two French Guides, are going to climb their first mountain outside of the UK. We have a good time, discuss climbing and eat well. The expectation of tomorrow's climb is great and the excitement hangs in the air.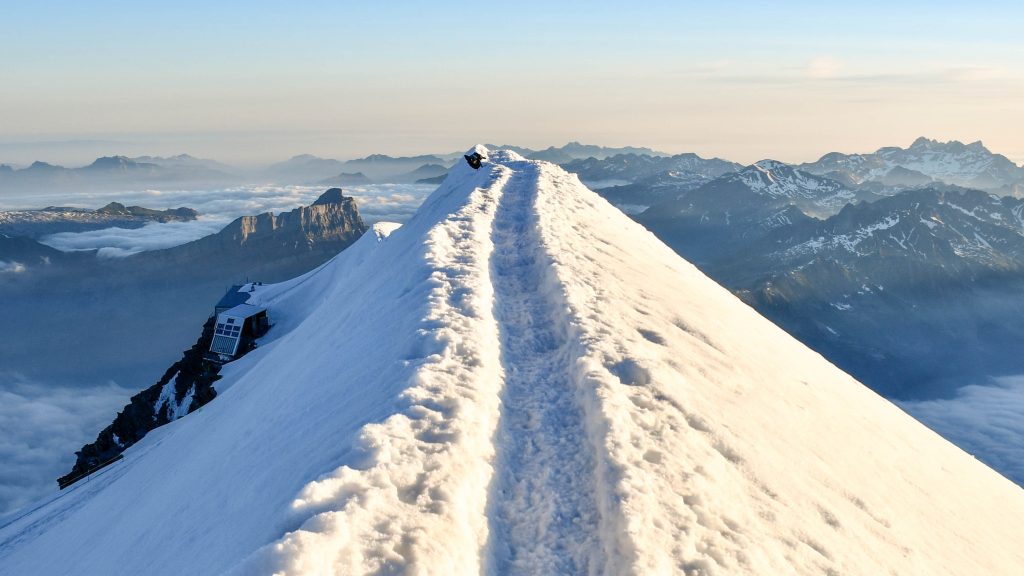 The Gouter Ridge